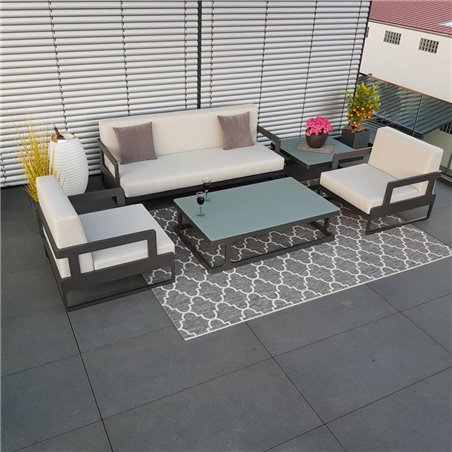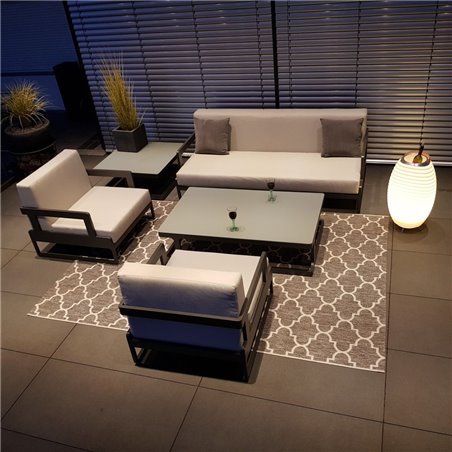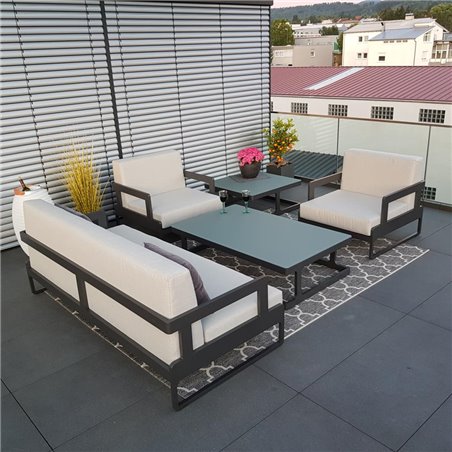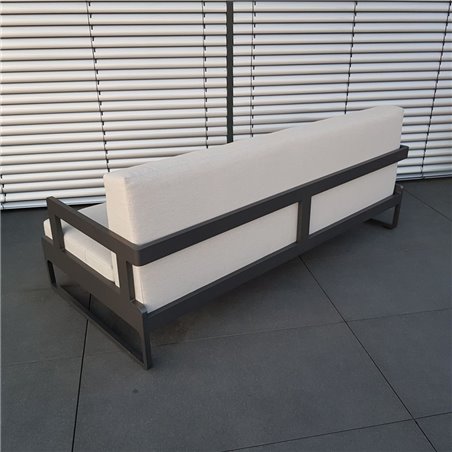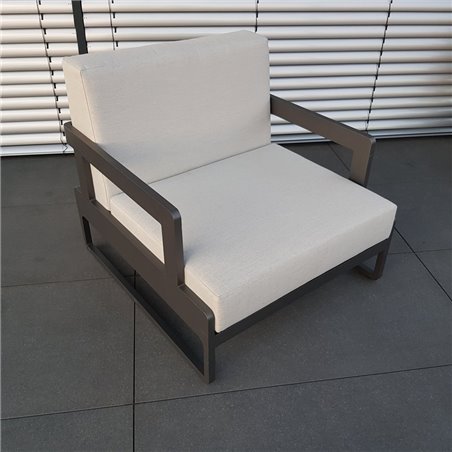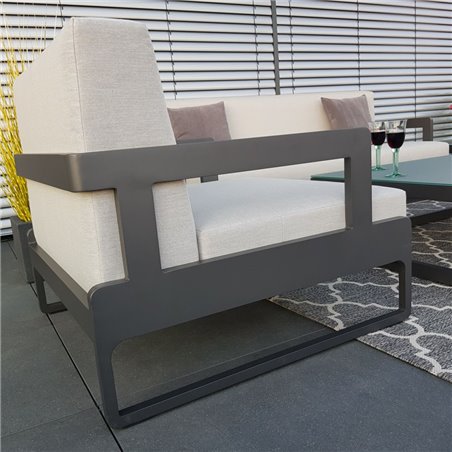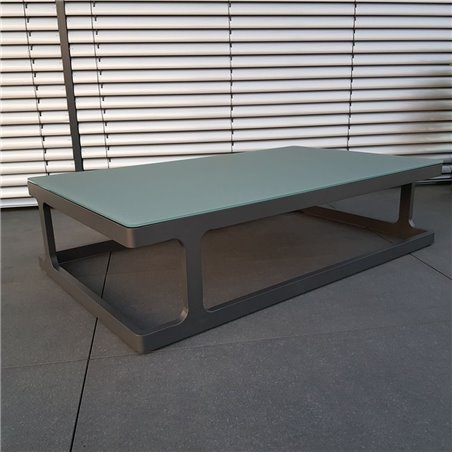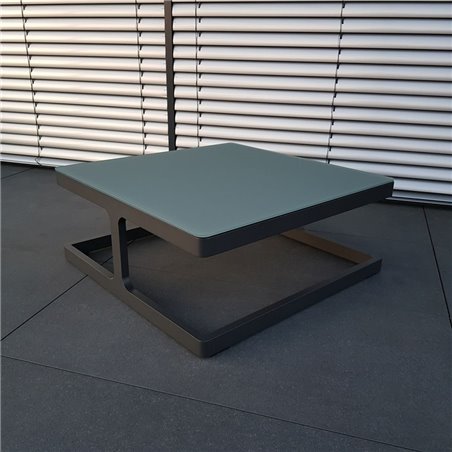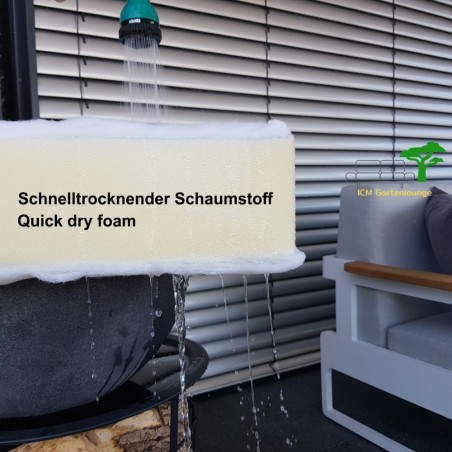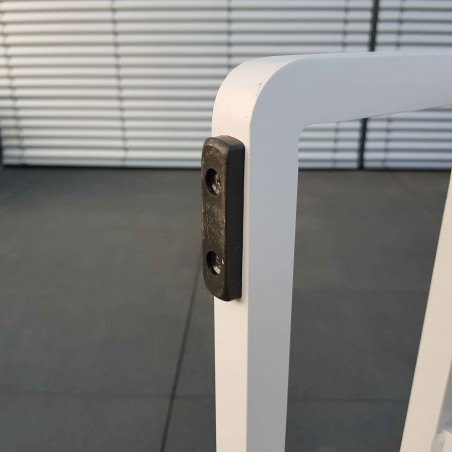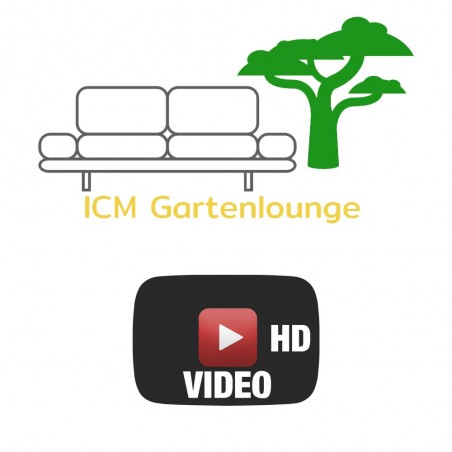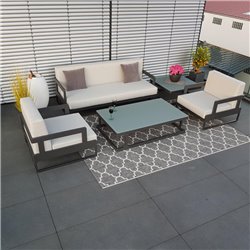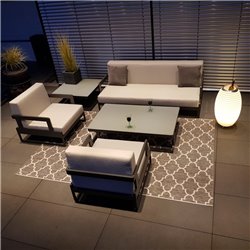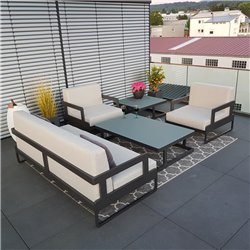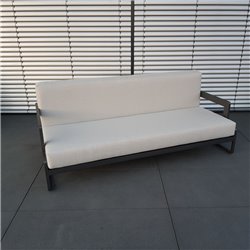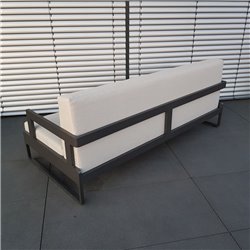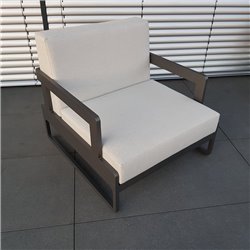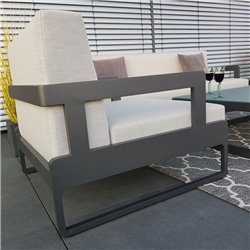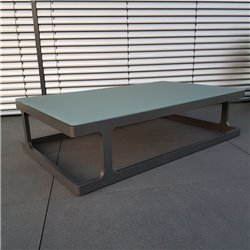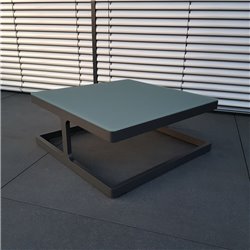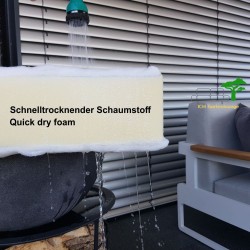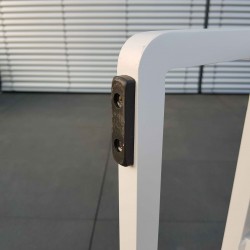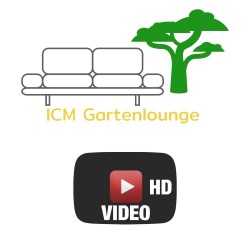  
Garden Lounge Set Marseille Gray Anthracite
This noble outdoor lounge creates a real feel-good atmosphere for you and your guests in the garden, terrace or balcony
Garden lounge Gray Anthracite consisting of: 
✔ 1 x 3-seater sofa incl. seat and backrest upholstery
✔ 2 x armchair incl. seat and back upholstery
✔ 1 x large table
✔ 1 x small table
Exclusive aluminium garden lounge Marseille Gray Anthracite
Are you looking for a modern, elegant garden lounge with plenty of space, a summery look, optimum seating comfort, high-quality materials and quality?

Our outdoor lounge made of powder-coated aluminium invites you to feel good, relax and enjoy!

Take a seat on the comfortable, 3-seater garden lounge or the two garden chairs. 

The matching tables are also powder-coated, the frosted glass tops fit perfectly into the overall concept and make the seating furniture appear modern and elegant. 

The wonderfully soft padded seat and back cushions have removable and washable cushion covers and have a special Quick dry Foam, which is water-permeable and dries quickly.

However, the lounge should be covered in case of heavy rain.

Bring your living room into the garden and look forward to summer!
Covers:
✔ Colour light grey water-repellent polyester fabric.

✔ The cover is particularly tear-resistant and flexible.

✔ Thanks to the concealed sewn-in zippers, the covers can be easily removed and washed if necessary (hand wash 30°C, not suitable for tumble drying)The fabric feels very comfortable!

✔ Most dirt can be removed with a damp cloth,
Filling:
✔ "Quick dry foam" is a filling foam specially developed for outdoor use. The open structure allows moisture and wetness to pass through quickly, i.e. no moisture remains in the filling, thus ensuring good air circulation. It therefore dries quickly and is not a target for fungi and mould.
teak wood:
✔ The teak furniture is delivered in its natural state. Please note that in the first months oily substances can be washed out of the wood surface by rain. This can lead to stains on light-colored natural stone floors.The teak can be cleaned with warm water, neutral soap and a root brush if it is slightly dirty. To prevent the typical teak patina, the wood can be treated with an oil specially designed for teak. This treatment is only a visual aspect: the formation of the silver-gray patina and minor hairline cracks are typical of teak and are not a reason for complaint, as the quality and properties of the wood are not reduced. Clean the wood 1-2 times a year with a teak cleaner and a firm brush. In this way you will prevent the dirt from settling in the pores. If you like the natural characteristics of teak, then you can limit the maintenance to cleaning. If you do not like the silver-gray patina, then you should start care before the graying ( teak oil ), so you delay the process of graying. Before maintenance, please clean first, because dirt stains are not removed by the teak oil but more visible! 
Frame:
✔ Color anthracite. The frame is made of powder-coated aluminum. Non-rusting, weather resistant and easy to clean. Cleaning: clean the frame with a mild soapy water and a soft sponge, do not use abrasive cleaners.
Shipping - Assembly:
✔ This article will be shipped for you by a forwarding agent to the curb to an address you specify. Cardboard packed & assembled ... unpack, set up, ready !
Care instructions:
✔ Basically, our garden furniture is weatherproof. However, we recommend the use of a protective cover, which not only protects against rain, but also dust, pollen, dirt and UV radiation.

✔ During the winter months we recommend to store the upholstery in a protected room. This way, you can enjoy your new ICM garden lounge for a long time.
✔ 1x 3 seater 213cm x 90cm x H77cm seat height 36cm x seat depth 66cm incl. seat and back cushion 33Kg

✔ 2x armchair 98cm x 90cm x H77cm seat height 36cm x seat depth 66cm incl. seat and back cushion a 17Kg

✔ 1X Table large 140cm x 85cm x H 37cm 19Kg

✔ 1X Table small 85cm x 85cm x H 37cm 12,5Kg
Accessories shown on product pictures as well as decoration articles do not belong to the product range.
* Estimated shipping with a forwarding agent